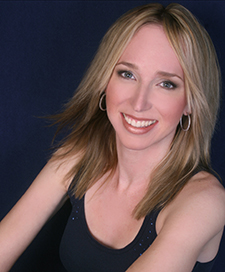 Tamora Pellikka was immersed in music at a very early age as both her parents worked at the Royal Opera House in Covent Garden. She began studying voice at the age of six and performed with numerous choirs in Europe before moving to the United States at age 15 to attend Interlochen Arts Academy where she majored in voice. She graduated from the San Francisco Conservatory of Music with a B.M. in Opera/Vocal Performance. Ms. Pellikka debuted in her first full length opera at the age of twelve, singing Belinda in Dido and Aeneas in Shepton Mallet, England. Continuing to excel vocally, Ms. Pellikka was awarded a full scholarship to study music and linguistics in Florence, Italy where she continued to garner notice and interest from the opera world. She made her debut as Orfeo in Orfeo ed Euridice.
Progressing as a young artist, Ms. Pellikka made her debut with the San Francisco Symphony in a Christmas concert and was a finalist in the New West Symphony's Young Artist Competition. She was accepted into the Young Artist Program with Opera Santa Barbara in 2009, performing in Carmen and The Merry Widow. That summer she performed with the Rossini Festival Orchestra in Mercatello sul Metauro and Cagli, Italy as Meg Page in Falstaff and the Abbess in Suor Angelica. She was a guest artist in 2010 at UCSB performing Dorabella in Cosi fan tutte and made her Celestial Opera debut as the Monitor in Suor Angelica and La Ciesca in Gianni Schicchi in 2011. In the fall of 2011 she returned to Dido and Aeneas, this time in the title role. In 2012 Ms. Pellikka sang her first Russian role as Olga in Eugene Onegin.
Additional opera and musical roles performed include Cherubino in Le Nozze di Figaro, Maddalena in Rigoletto, Mercedes in Carmen, Prince Orlofsky in Die Fledermaus, Nicklausse/The Muse in The Tales of Hoffmann, Madame Peep in P.D.Q. Bach's Oedipus Tex and Sally Bowles in Cabaret. She has participated in the Professional Program at Songfest in Malibu three times, where she has worked with composers Jake Heggie, John Harbison and Ricky Ian Gordon; as well as the American Institute of Musical Studies in Graz, Austria.
For two years Ms. Pellikka toured nationally with The Irish Christmas Show. She has appeared on an episode of Hell's Kitchen and sung for President Ronald Reagan.
ROLES PERFORMED
NICKLAUSSE & THE MUSE, Les Contes d'Hoffman, Independent Opera Co., 2014
OLGA, Eugene Onegin, Independent Opera Co., 2012
DIDO, Dido & Aeneas, Celestial Opera, 2011
THIRD LADY, Die Zauberflöte, La Mirada Vocal Arts, 2011
LA CIESCA, Gianni Schicchi, Celestial Opera, 2011
MONITOR, Suor Angelica, Celestial Opera, 2011
DORABELLA, Così fan tutte, UCSB, 2010
MEG PAGE, Falstaff, Professional Advantage, 2009
BADESSA, Suor Angelica, Professional Advantage, 2009
MERCEDES (Cover), Carmen, Opera Santa Barbara, 2009
GRISETTE, The Merry Widow, Opera Santa Barbara, 2009
CHERUBINO, Le Nozze di Figaro, Center Stage Opera 2009
MADDALENA, Rigoletto, Center Stage Opera, 2008
ORLOFSKY (Cover), Die Fledermaus, Intimate Opera, 2007


ORATORIO AND CONCERT APPEARANCES AS A SOLOIST
Soloist, Deck The Halls, San Francisco Symphony, 2006
Soloist, Various Composers, London Philharmonic, 2006
Soloist, Various Composers, San Francisco Symphony, 2006
Soloist, "Evening with Stephen Schwartz", SCV Theater Project, 2005
Soloist, Handel's Messiah
Soloist, Fauré's Requiem
Soloist, Rutter's Requiem
Soloist, Verdi's Requiem


CONDUCTORS
James Caraher, Kathy Cathcart, George Daugherty, Kristoff von Gryspeer, Nir Kabaretti, Valery Ryvkin, Louis Salemno, Michael Singher, and Burns Taft.
DIRECTORS
Yafim Maizel, David Ostwald, Mel Swope, Mark Sayler, Mark Lamanna, and Simon Williams.
MUSICAL TRAINING
2009 - Santa Barbara Opera Young Artist Program; 2009 - The Professional Advantage; 2007- AIMS; 2003-06 - Songfest Professional Program (Ricky Ian Gordon, Jake Heggie, John Harbison, Martin Katz, and Margaret Lattimore).

Voice Teachers: Renee Sousa, Naomi Farr, Nina Hinson, Sara McFerrin, and Fred Carama.
Voice Coaches: William Vendice, Henrietta Pelta, Armen Guzelimian, and John Ballerino.

EDUCATION Bachelor of Music Degree in Vocal Performance - San Francisco Conservatory, 2000
Back to Artists