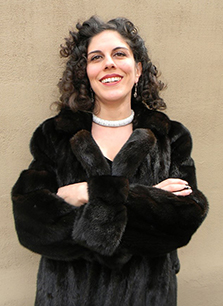 "She plays more like a Spaniard than the Spaniards do these days. Her music is a proud representation of the glory of our culture."
King Felipe VI of Spain
"I have witnessed the masters perform where AnnaMaria just has, and never have I heard a performance of Recuerdos de la Alhambra more flawless or more moving."
The Cardinal Archbishop of Toledo
Recuerdos de la Alhambra: https://youtu.be/mMiwXG3-43Q
Farruca Crepusculo: https://youtu.be/KoK-c-Hz06E
Leyenda: https://youtu.be/AjNIvMkw0yU

ANNAMARIA CARDINALLI has had an extraordinary career with the guitar since an early age. An 18th-generation native of Santa Fe, NM, she grew up absorbed in the proud Spanish colonial culture of her father, and in one of the rare flamenco enclaves in the United States. Making her solo recital debut at the Kennedy Center at the age of 14, she quickly went on to become a popular performer in U.S. Embassies abroad and even a favorite entertainer of the Spanish Royal Family—a rare compliment for an American guitarist.
Her programs are typically highly entertaining evenings of repertoire that embody the classical romance and gypsy soul of southern Spain. Unlike the interpretive sense that prevails in the male-dominated guitar world, AnnaMaria's playing is marked by a distinctly feminine sensuality. She makes the guitar truly an extension of herself.
While typically a recitalist, she enjoys performing the major guitar concerti—particularly Rodrigo's iconic Concierto de Aranjuez—with symphony organizations. She continues a prolific recording career with over 12 albums to her name, has maintained a yearly U.S. concert tour schedule for over a decade, and is also a feature in modern media, bringing beloved Spanish classical music to a wide global audience. Her solo recitals aired on the worldwide cable network EWTN reach a broadcast audience of over 250 million homes.
Two truly unique technical cornerstones define AnnaMaria's playing. The most exciting and crowd-pleasing is her right hand virtuosity, particularly with regard to her tremolo. Both her classical and flamenco tremolos achieve a level of evenness and speed which transcends the many notes themselves and instead perfectly re-creates the constantly falling waters of the fountains of the Alhambra. Taking tremolo technique even further, her own arrangements and new music written for her push the technical bounds of the guitar. (A symphonic work written for AnnaMaria as a soloist included 7 and 10 note tremolos, and some of her own arrangements include tremolos with a right-hand bass of variable rhythm—a technical feat never accomplished by any other guitarist.)
While her right hand technique is extraordinary for its flashiness, her left hand technique is extraordinary for its subtlety. She achieves a pristinely clean tone, meticulously free from string noise, which allows the music to simply "be" without any audial reminder of the touch of the guitarist. It is this technical perfection, labored over and then laid absolutely at the service of the music itself, which allows listeners to close their eyes and be truly transported into an experience of beauty and romance.
Back to Artists