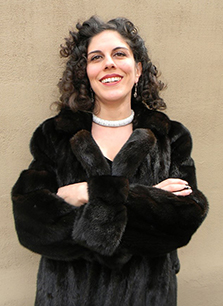 "A world class contralto."
Fine Art Connoisseur
"AnnaMaria Cardinalli is, without question, the most formidable contralto I have heard or had the pleasure to work with."
Maestro Albin Konopka - Gotterdammerung @ Lincoln Center
"Now there is a voice I love. Cardinalli's fabulous sound has that big, true womanly contralto color with great brilliance of tone."
Maestro David Thye - Rutter's Magnificat @ Carnegie Hall
"...a contralto of power, great musicality, and beautiful color, deserving of recognition for her immense talent."
Premio Concurso Internacional
"A tribute to the amazing people who love passionately enough to sacrifice, and have the fortitude to do it day after day."
USA Today
Schubert Ave Maria: https://youtu.be/0PloDO0rFXc
Ulrica's Invocation: https://youtu.be/KXDAp9-ajCc
Che faro senza Euridice: https://youtu.be/1ikBDMOIkl8
Habanera: https://youtu.be/PhD49kKqQOQ
Card Scene: https://youtu.be/NzRx2jT9ssY
Aria della Principessa: https://youtu.be/tgt66Y0MepE

ANNAMARIA CARDINALLI has an amazing story of someone destined to succeed in the difficult world of opera. Graduating from high school at age 14 and ultimately becoming the youngest Ph.D. to graduate from Notre Dame, people noted such focus and drive from a very early moment in her life, it was clear she would succeed at anything she put her mind to.
Her journey led to a career as a world class classical and Flamenco guitarist, something very rare for a female musician. Performing in venues from the Kennedy Center to the Spanish Royal Palaces, and having over a dozen CD releases to her name, there remained a fire within her that drove her to the stage to perform in an even more daunting career as an opera singer.
Focusing on a full time career in opera, AnnaMaria immersed herself passionately in repertoire appropriate to her exceptionally rare voice type. In roles from Puccini's sternly enigmatic Zia Principessa to Wagner's foreboding First Norn, the artistic specialists that she performed for found not only a great musician, but an exceptional vocal performer. The richly layered color of her voice, and a commanding presence on stage, garnered raves and audience approval.
Her career continues to grow and, as a published author of a human interest story that will take your breath away, AnnaMaria is a special performer that will not only please the audience, but draw attention to any venue or opera and/or symphonic organization she is associated with. She resides in Santa Fe, New Mexico and is actively involved in the arts and humanitarian issues.
ROLES PERFORMED
CARMEN, Carmen, Opera West, Upcoming 2017
MAMMA LUCIA, Cavalleria Rusticana, Opera West, Upcoming 2017
LA ZIA PRINCIPESSA, Suor Angelica, Opera West, 2016
ERSTE NORN, Gotterdammerung, NYLO Lincoln Center, 2015
LA ZIA PRINCIPESSA, Suor Angelica, New York Lyric Opera, 2015
ULRICA, A Masked Ball, Santa Fe University (Film), 2014
IDA, Die Fledermaus, American Chamber Opera, 2013
LA ZIA PRINCIPESSA, Suor Angelica, Tuscia Opera Festival, 2012 *


ORATORIO AND CONCERT APPEARANCES
Contralto w/ Sistine Chapel Choir, Papal High Mass of Mercy, St. Peter's Basilica, Upcoming 2016
Contralto Section Lead, Rutter's Magnificat, Carnegie Hall, 2016
Contralto Soloist, Elgar's Sea Pictures, Orchestra Amadeus, 2015
Contralto Soloist, Saving San Miguel Mission, EWTN International Broadcast, 2015
Contralto Soloist, Vivaldi's Gloria, St. Francis Pontifical Chorus, 2014
Contralto Soloist, El Duo Duende, National Concert Tour, 2008 *

*Absent intervening years due to military duty and deployments.
MUSICAL TRAINING
Voice Teacher: Janice Pantazelos, Chicago Studio of Professional Singing
Voice Coach: William Vendice
EDUCATION
Ph.D. in Theology - University of Notre Dame 2004; MA in Great Books - St. John's College 2000; BA in Performing Arts - St. Mary's College 1998 (teenage graduate)
AWARDS 2014 Winner - Premio Concurso Internacional, Madrid; 2012 Semi-Finalist - Paris Opera Awards; 2009 Laureate - Mother Theresa Award; 1998 Louis LeFevre Award for Excellence as a Performing Arts Major
Back to Artists