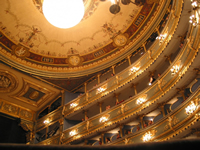 Founded with an eye towards reviving the "Grand Opera" tradition in America, EMBRA, as a "boutique" agency, offers a small select roster of vocal artists with rich, layered voices that bring a special warmth and color to their presentation. Consummate musicians and actors our artists arrive the first day of rehearsal ready to step on stage in character. These exceptional artists not only know the role but bring a special touch to any production. EMBRA artists have the unique ability to "climb into the skin" of the characters they portray on stage. Our instrumentalists offer the highest degree of musicianship as well as a wonderful interpretation of the classics when performing. EMBRA's artists make a strong emotional investment and are known to please crowds wherever they perform.
Recent events, and inquiries, provided the impetus for EMBRA to begin adding both conductors and stage directors to our family of artists. We would then be able to offer a resource for companies seeking those professionals that share our vision that the voice is first, and foremost, in creating successful opera while style and character being responsible for creating the "flavor" of the production envisioned by the director and conductor. It is our belief that opera should reach into one's soul, to grab the heart and move you to emotional highs and lows, much as the composers envisioned when putting pen to paper, thus creating those beloved classical masterpieces.
EMBRA represents vocal artists, instrumentalists, conductors, and stage directors. In late 2012, EMBRA branched out into the international world by adding an exceptional European artist to the Main Stage roster. Because of the increased interest from foreign artists, EMBRA now represent artists as a General Manager worldwide. Considered "company friendly", and highly aware of the budget constraints and casting concerns companies currently experience, we secure all USCIS Visa's necessary for all foreign artists to legally perform in the United States either via an ESTA or O-1 Visas, saving companies staff time and budgetary funds. We welcome your questions and comments and urge the classical arts community to explore a relationship with us.